If you're into carbon fiber this is probably a kit you want to embrace. I never heard about the Sirui brand until a couple of month ago where a stumbled across it in a thread over at NatureScapes.net – Fast forward a month or two and into my office arrived a well suites kit for the average nature photographer. So if it time to ditch your favorite tripod and gimbal brand and spend all your money on Sirui? – Read on and find out.
First a small rant, so let me get this out-of-the-way a soon as possible and focus on the more important stuff. The keyword is load capacity.
Why is it that every other tripod maker (with the exception of a few movie oriented brands) claim whatever equipment they offer is able to sustain tremendous workloads, when in function they would be nowhere near that particular rating. Is Sirui any different? No! Is Manfrotto and Gitzo any different? No! So why not when you already know that in the heat of action, your gear will not support these claims just supply the customer with the real load capacity and not a value calculated out of your free mind.
Ever tried adding 15.7 kg lens and 1.5 kg body on a 3 series Gitzo tripod that's rated at 18 kg? I have and it's absolute so fragile it's of no real use what so ever. So my rule of thumb is : In order to calculate the true load capacity divide whatever the manufacturer claims by 3 or 4 and you'll have a result that's close to reality – Rant mode is off again.
Agree or disagree leave a comment and let me and the user base know. We want the right info from get go!! 🙂

With that out the way lets focus on what this wonderful kit offers.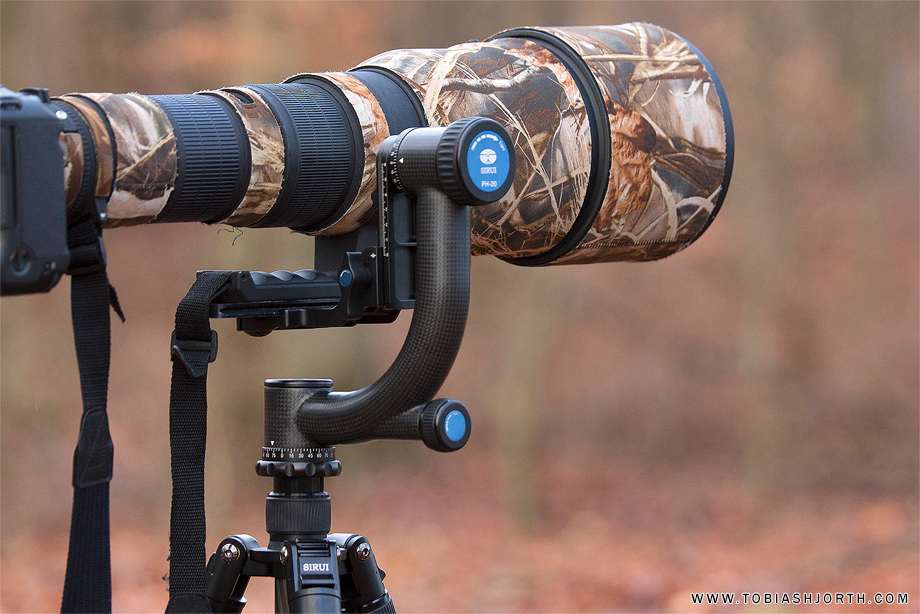 I'm not sure you can refer to any camera accessory part as sexy but you got to admit – The Sirui PH-20 Carbon Fiber gimbal head looks pretty darn good with it's sleek woven carbon fiber and impeccable finish.
Going from bottom to top the PH-20 features a nest degree-marked panning base that sits firmly on top of the tripod. I would liked to have it slightly wider but all in all it looks as good as it functions.
The first blue knob is a beautifully made and of cause rubberized for comfort and control in harsh conditions. The knob is surprisingly well damped and feels very smooth turning. In function in works great as it's easy to get the right tension if you feel any is needed.  I would liked it easier to lock completely down as I feel it takes just a tad too much force to do. Perhaps a larger knob would've done so but then you'll end up with a more bulky head.
Moving upwards on the gimbal reveals the swing-arm as well as the second tension knob that controls vertical movement. The knob has the same feel as the horizontal knob. But it's bigger and therefore better. This huge knob is a joy to use and you'll be locking and unlocking to the right tension within the very same second. The quality is superb and you'll appreciate the craftsmanship Sirui has put into this gimbal. I mean just look at the carbon-pattern – Looks close to perfect to me.
Moving to the swing-arm you'll again find a degree marked vertical base on the end of the bearing. Brilliant! The vertical part of the swing-arm is also marked to easy to adjust comfort if you're switching between lenses within your workflow. Compared to the rest of the head this part is surprisingly small for the size of the head and to keep the weight as low as it is, this part is milled out. This is in fact the very culprit in this system and why the rated work load of is ridicules! I would divide this number by 4 or even 5 to calculate the gimbals true ability to work under ideal conditions. – So I am saying the Sirui PH-20 isn't suitable for the Sigma 300-800mm F5.6 lens (weighs 5.9kg) – Yes that is what I'm saying, so here´s me hoping that the mark II of this otherwise neat gimbal, features a vertical part twice as beefy as it is, just like any of the competitors.
The horizontal part of the swing-arm is great and it's, thanks to the markings, extremely easy to move up and down in other to find the right balance point. A neat feature is the built-in quick-release which functions very well. I would have liked the knob that closes the quick-release to be larger, but there's always room improvement even on a high-end object like this.
A big plus is the ability to remove the swing-arm and mount a quick-release in side-mount style. A second quick-release is included but an odd design choices forces the user to go with the included lens-plate or ditch the side-mount altogether. The funny thing is this could be avoided by including a couple bolt´s with angled head and problem solved.
All in all the coolest looking gimbal on the planet and superb for lenses up to 500mm F4's or perhaps the newest lightweight 400mm F2.8. Any larger and I would look for different alternatives.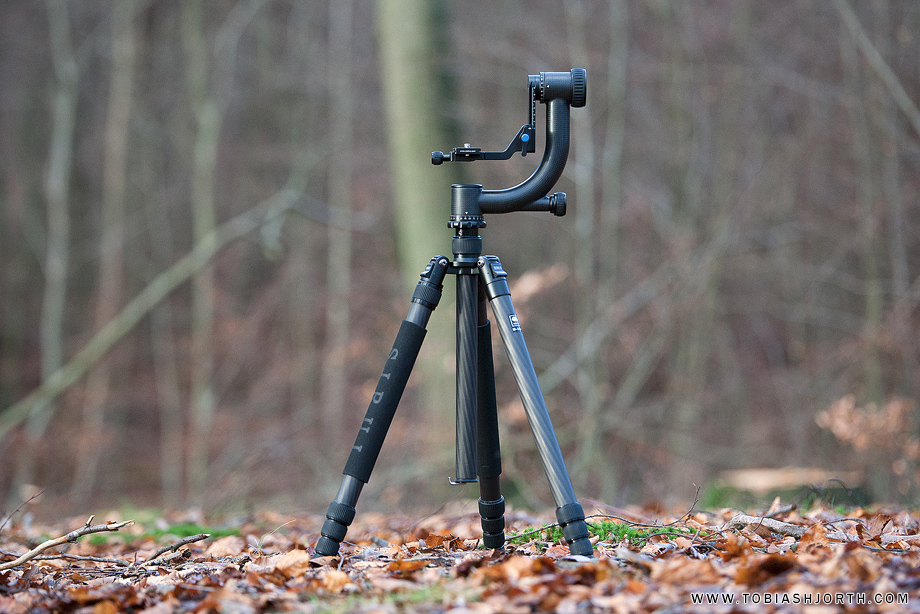 The Sirui M-3204 is made of similar excellent carbon-fiber craftsmanship and fits the Sirui PH-20 very well. The legs are rated at 18 kg which is far beyond what it´s truly capable of, but I wouldn't have any problems using it with gear weighing around 4 or 5 kg or similar workloads to the Sirui PH-20. Although I would always buy a tripod with a flat base (or a 75mm bowl) the center column functions surprisingly well and with the column extended to full length the tripods meet an amazing height of 180 cm. Add the 20 cm for the gimbal and you'll be working in a different layer of air only used by Yao Ming and similar sized humans.
Again the attention to detail is superb. From the logo on the leg covers to the small hook to hang whatever heavy stuff you'll carry. They feel stable at higher work loads as long as you won't surpass my aforementioned recommendation. There's a number positions for the legs to be sitting which can get you almost all the way to the ground. Yet I'm surprised how compact the tripod collapses reaching only a total height of 51 cm in reversed position. I love how little it weighs, only 1.7 kg's and with the Sirui PH-20 gimbal it makes one heck of a travel kit for the nature photographer on the road. You'll be trekking with these legs for days and never complain about the weight of the tripod nor the gimbal.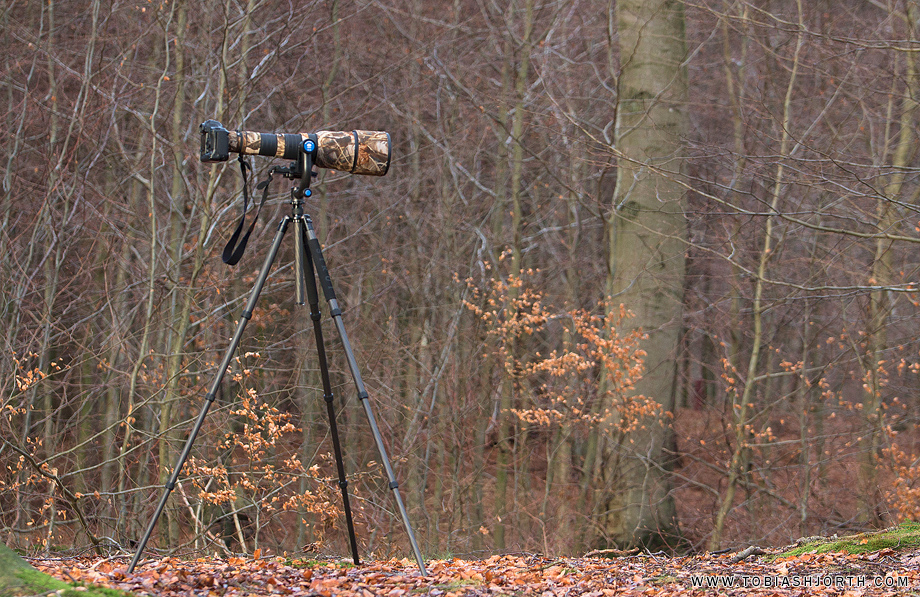 I would've liked the base to be slightly beefier and well as the knobs to be slightly longer to have a firmer grip on the legs. One of the secrets behind the success of the Gitzo tripods and their stability isn't the carbon-fiber but the length of their knobs, as they grip over a large area making the tripods much more stable, when you're twisting and turning them in the heat of action. Try and extend whatever tripod you own to the highest length and get a firm hold on two of the legs and try to twist the tripod.. Wobbly right? – Now try this with a similar sized Gitzo and you'll see the difference. And it's not that the Sirui M-3204 isn't bad in any way, in fact it's way better than most Manfrotto's just not in the same league as Gitzo which I believe Sirui is trying to compete against.
All in all great legs for large lenses up to 500mm F4 or similar size.
Conclusion
To be honest I didn't know what to expect from the Sirui M-3204 tripod and Sirui PH-20 gimbal. In terms of looks they rock especially the gimbal is a contender for the greatest looking tripod-head on the market. There's a couple of things I would've liked different but I'm sure they'll get it right on the Mark II.
The Sirui M-3204 is a great tripod as long as you don't use it with the largest lenses on the market. I'm extremely impressed on how compact it folds and how tall it'll go. One of the most versatile tripod I've ever used and it's suites the Sirui PH-20 gimbal very well.
There's a couple of buts that makes me wonder most of all the advertised workload that's far beyond what the kit is capable of´, but to be honest Sirui is just doing whatever every other brand does.
I'll give my recommendation to this kit and if you need the compactness and lightweight this kit offers, there's very few alternatives that does it as well at the Sirui M-3204 tripod and Sirui PH-20 gimbal.
[yasr_multiset setid=0]