The Sirui RX Reporter X series is the top-of-the-line carbon fiber tripod with all the bells and whistles you would come to expect from a high-end tripod. But is it any good?
Admittedly the title may have given away my thoughts on the Sirui R-5214XL. So here's my reasoning why so.
Never buy a low quality tripod! – You'll regret it forever.
When dealing with large telephoto lenses you need to look for the very best. There's no reasoning in buying a $8000 500mm F/4 lens and then putting it on top of a $99 tripod. It an accident waiting to happen and despite the manufacturer claims the tripod can carry a certain degree on load, you HAVE to take it with a gain of salt and a large one at that too.
A flimsy tripod may have the ability to sustain the load in ideal conditions but as soon as you move it outdoors and use it with a gimbal or video-head chances are you'll find it bending and twisting all over the place.
A rule of thumb that applies to almost any manufacturer:
Find the claimed maximum load rating and divide it by 3 and then you have the somewhat correct rating in ideal conditions. If you divide it by 4 you'll find the true work load under stress in any giving situation.
Another thing you would want to avoid especially when dealing with large telephoto lenses are risible center-columns. No tripod is better than the weaker link and a risible center column is, on almost any tripod on the market THE number one reason the camera / lens combination is stabilized less than it should be. So when using large photo gear the rule is; flat base tripod good, $99 center-column tripod bad 🙂
The Sirui R-5214XL IS a flat base tripod – The first plus point!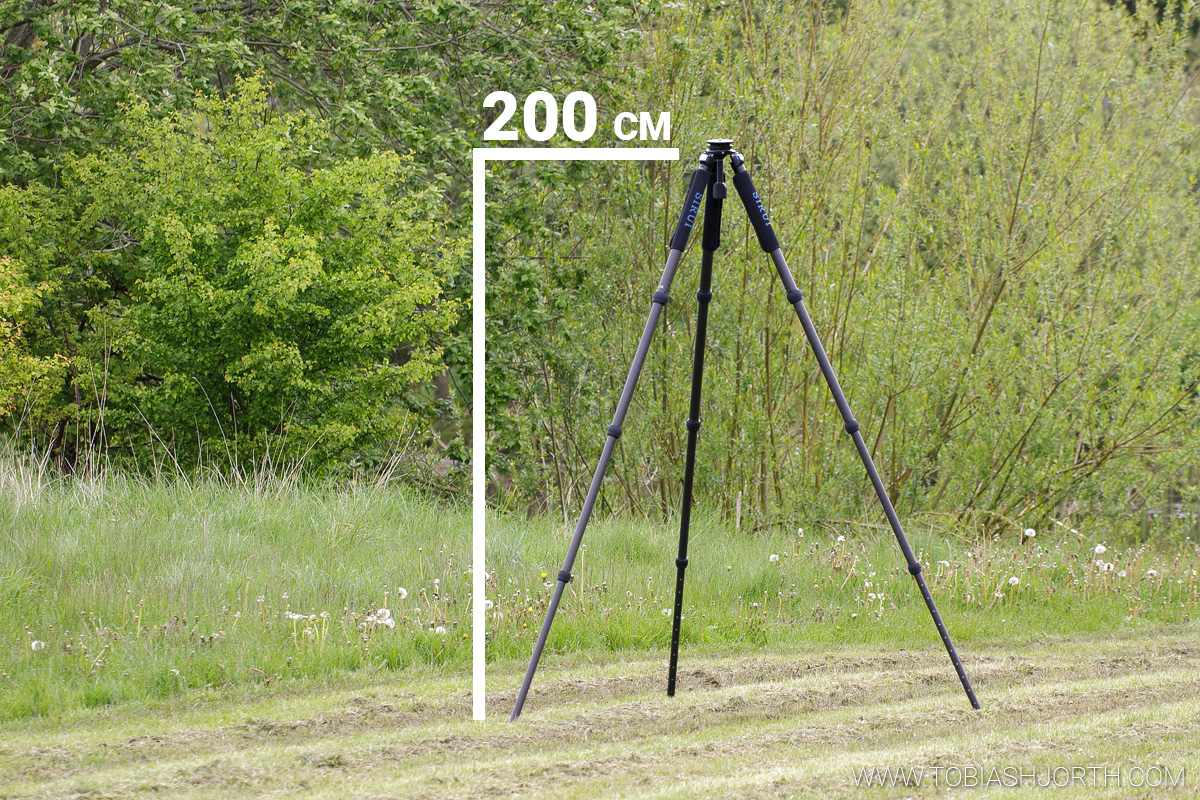 Why would I need a 200cm tripod?
Truth is you probably don't if you only think about your own height. A higher tripod is also a more versatile one than a short and much needed aid in situations where you find yourself on higher ground than the you own height or when the tripod legs are spread flat out 90 degrees as the tripod covers a larger area. In certain situations this can be a lifesaver. – Height equals instability in which there is some truth, but with a tripod as large and beefy as the Sirui R-5214XL the oversize height makes some difference in a positive direction.
The Sirui is a 4 section tripod meaning the minimum height is a mere 69 cm which is given the size of the R-5214XL is impressive. It weighs a mere 3 kg's which for a tripod of this size is impressive!

Legs for days
What good is a tripod if the legs are as sturdy as diamonds and the locks are as brittle as ceramic you might ask. Luckily this Sirui is fitted with oversize locks that grips over a large area. This makes it much harder to bend, twist or turn and a feature you'll appreciate in harsh conditions
If you want to lock the legs all is takes is a slight twist and you're all set. Gone are the days where you could twist for an eternity before the lock finally engaged, half a turn is more than enough.
Did I mention how well made the Sirui R-5214XL is? – Just look at that carbon fiber pattern, an impressive 10 layers of it!
I'm sure Sirui takes pride in that.

Must have accessory? – Leveling head!
Definitely the most important accessory anyone could ever buy when using a flat base tripod and a gimbal-head is a leveling head. Thankfully Sirui makes the brilliant 75mm Sirui YB-75A leveling half-ball that kicks whatever Gitzo or Manfrotto equivalent out of the park (Have been using both for ages). The adjustment arm is SO much easier to use than the competition due to its size and form.
A leveling head is a must when using a gimbal because the gimbal requires balance around the nodal point in order to work with gravity. Otherwise It'll just dangle to whatever side you tripod is leaning and render the gimbal otherwise smooth operations cumbersome and pointless.
Conclusion
The greatest tripod Sirui's ever made – Easily!
Lone gone are the days where Gitzo was the go to brand on carbon fiber tripods and other brands where considered sub-par – The Sirui R5214XL is the definitive proof!
The tripod could support my 8 kg lens and body combination with EASE and I'm sure you could add 5 kg's without too much hassle. The leveling ball-head was a blast to use and overall this Sirui tripod impressed me more than I expected.
Awesome tripod!
[yasr_multiset setid=0]