The world of scopes couldn't oddly be any different from the one of telephoto lenses. Extreme focal length up to 1800mm and apertures as small as F/21 are not your ideal photo conditions but Swarovski aim to change that. Did they succeed?
Let's settle this once and for all – Who is this bundle for?
Chances are as a nature photographer you're already bogged down from carrying 1-2 large lenses as well as a tripod and all of your photo accessories, so carrying  a large scope like this Swarovski ATX 85mm as well as the TLS APO adapter is highly unlikely. Therefore we have to change perspective a bit to see it from a bird-watchers perspective.
The quality-conscious bird watcher is more than likely to carry a set a binoculars, a tripod and a spotting scope like this top-of-the-line Swarovski.
While most bird watchers enjoys to document their finding, image quality not the number one priority. Therefore shots of documentary quality are more than plentiful. Most wouldn't know too much about focal length or apertures nor do they talk about full-frame sensor or highly advanced autofocus systems. All they want is a photograph where the main focus is bird identification.
With this in mind perhaps it's a bit unfair to compare the Swarovski ATX 85mm Scope and TLS APO adapter to a true telephoto lens like the ones from Canon or Nikon.
Ultimately this in a scope and not a lens and so it's made primarily for the contour of the eye and not the flat plane of an image sensor.
But if you were to read on Swarovskis website and marketing material you could think otherwise:
The right choice for anyone who appreciates top-quality digiscoping, the TLS APO 30 mm camera lens was developed as a complete system with the new ATX/STX spotting scopes. Its excellent optical quality makes it particularly attractive to the most discerning digiscopers who want to use single-lens reflex cameras.
All fine and dandy but just how excellent is optical quality and how does it stack up on a much-more-than-the-eye demanding image sensor? Let's find out.
As a spotting scope
There's no question that the Swarovski ATX spotting scope series consists of high-end glass some with exotic materials such as fluorite, something also found in high-end telephoto lenses.
There's something very satisfying going for a lot of magnification to the extreme magnification and still maintaining an impressive sharpness throughout the range.
As a spotting scope the Swarovski ATX 85 with 25-60x zoom is very SHARP and CONTRASTY. There's a noticeable dip in light at full magnification compared to the widest 25X magnification as well as a slight dip in sharpness. But that's common and among spotting scopes this is (SPOILER ALERT) as good as it gets. Due to what Swarovski calls SWAROVISION you'll notice a much greater edge to edge sharpness over the nearest peers. That means identifying birds in the outer perimeter of the glass should be easier than ever before. See it as a field flattener similar to what you'll find in modern lenses but rarely in binoculars and spotting scopes.
As a spotting scope the Swarovski ATX 85mm is a joy to use. There's an extremely long focus throw is trademark Swarovski. Meaning even the smallest increments are easy to manage without focus in front or back of whatever you're watching.
Perhaps even more interesting is the 25-60x optical zoom (30-70x with the ATX 95mm). There's something very satisfying going from a lot of magnification to the extreme magnification and still maintaining an impressive sharpness throughout the range. As stated before there's a noticeable dip in the amount of light but that's physics AND we're still looking through a relatively small 85mm lens. The more you zoom the more you'll see how the image you look at enlarges with 60x magnification being the largest yet darkest.
Swarovski explains:
Taking functionality to a new level: the ATX/STX/BTX spotting scope system combines exceptionally flexible modularity with optical perfection. The objective lens can be changed to suit any viewing situation. Extreme detail recognition at crucial moments thanks to SWAROVISION technology and total ease of use ensure fascinating experiences in the great outdoors.
You'll appreciate the craftmanship of the Swarovski ATX 85mm telescope. It's not like you're average high-end lens with bare metal everywhere, instead with a heavy green Swarovski colored thick rubber armor all over the scope. It makes the scope slightly larger and thicker than its peers like Kowa but also feels like it can take a beating and then some. If you're ever about to get mugged and you have your scope around, use it to intimidate even the most persistent robber.
For those accustomed with large telephoto lenses you'll recognize the spotting scope foot. Oddly there's only one thread for a 3/8″ screw, a bit puzzling but industry standard for spotting-scopes. Note the foot fits directly into the most common and should I say vastly undersized (for the focal length) Manfrotto clamp mount without mounting a lensplate. I would have liked at least one more threading to ensure a super tight and firm fit as well as to ensure the scope doesn't turn on the tripodhead. With one thread you'll almost guaranteed the in the heat of the action you'll turn the scope on the lens plate if you don't use the mentioned Manfrotto clamp.
All in all there's no denying that the Swarovski ATX 85mm spottingscope is when used as what it's design for, is an exceptional piece of bird watching equipment.
As a telephoto lens
Evidently things changes a bit when using the Swarovski ATX 85mm Scope and TLS APO adapter as a telephoto lens for your D-SLR camera. One of the major benefits by using a modern camera is autofocus, in fact there's auto-everything if needed!
Autofocus is on of the major breakthroughs on the last 30 years of photography.
As a nature photographer (and sports photographer for that mater) you'll pay a hefty sum of money for super advanced autofocus modules in where you'll set a number of focus perimeters that'll benefit your photography situation. Almost always it's only the top-spec'd and most pricey cameras that carries the most advanced autofocus. There's no taste involved when it comes to autofocus, you can't argue that having no autofocus is better, just ask any nature photographer prior to 1989 –
Autofocus is a MUST for the professional nature photographer. But since we already established this is a product for the bird watcher, why is this still a factor?
That leaves us to the Swarovski ATX 85mm Scope and TLS APO adapter. As there's no electronic connections anywhere on this spotting scope, there's no communication between the scope and your camera. That means you'll always be shooting wide open and you'll have no option to stop the scope down to a smaller and sharper aperture. Since we're already at diffraction limit for most modern cameras, chances are you wouldn't be gaining much by doing so.
Another thing missing is (BIG SURPRISE) autofocus – It's manual focus only. Whenever you'll miss the shot it's your fault – You can't blame the camera nor the setup. Prepare yourself heaps of missed shots and photography opportunities. Even when you think you're in perfect focus you're more than like not. Remember there's huge focus throw on a spotting scope (especially on Swarovski's) which is fine when you're using it as a scope, but more a burden when using it as a lens.
Photographing with  the Swarovski ATX 85mm Scope and TLS APO adapter was in fact a FUN but not very rewarding experience.
For instance let's talk about a day this winter I spend with the ever-so-cute White-throated dippers. In fact there were three and they were what I would call almost tame. As long as you kept low, avoided quick movements and kept patience they came extremely close, more than often so close that I was waaay "overlensed"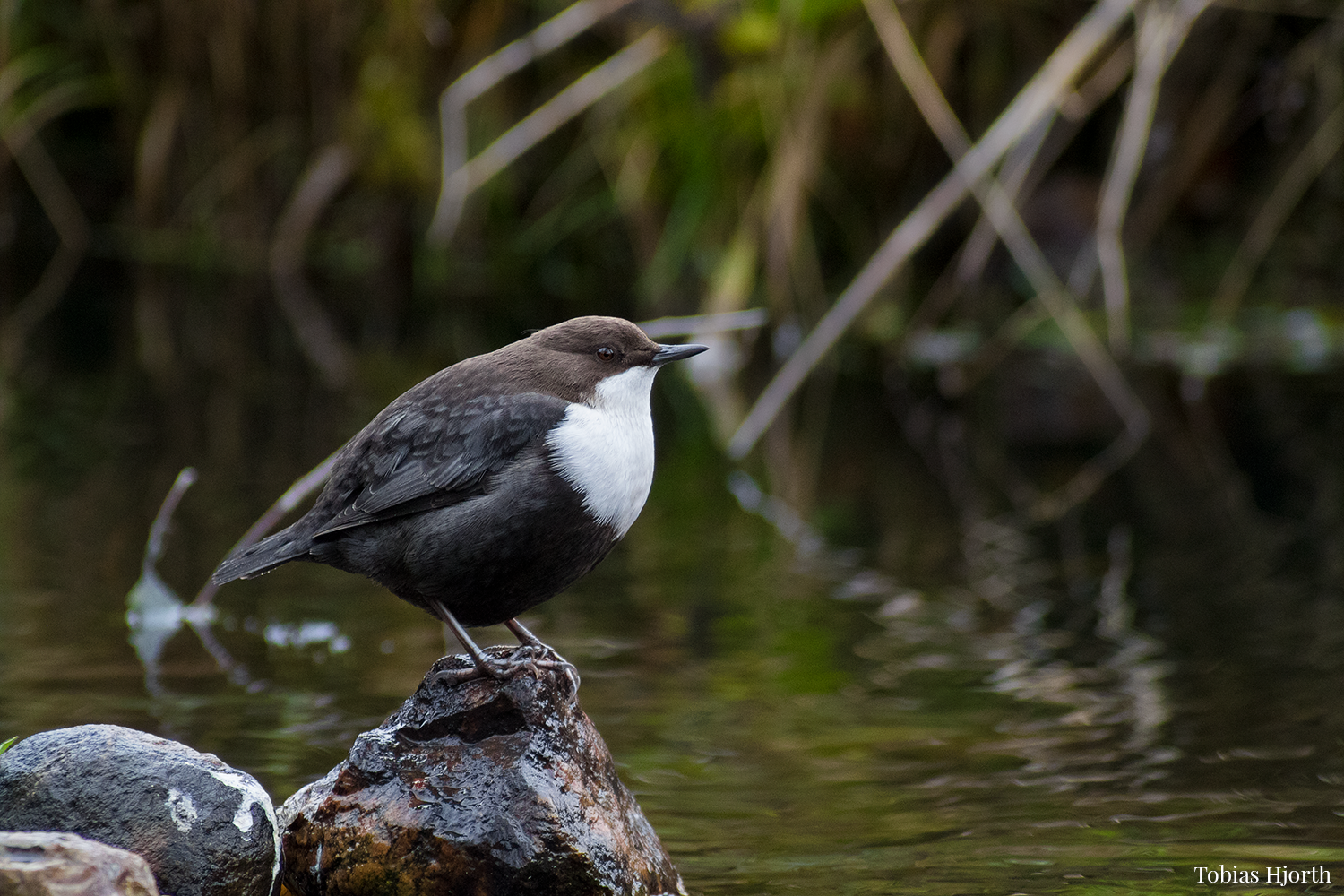 These White-troated dippers were what I would call stationary birds. Sure the male would once in a while charge one of the other but even then everyone would settle down quickly and things would go back to standing or foraging in the water.
It's a quite predictable bird and one that I would, as long as you can get close enough (which I could) an extremely easy bird to photograph and an especially awarding one. You always wonder how in-the-h*** they'll swim or walk so elegant and fast in raging water with feet that resembles most songbirds.
Photographing with  the Swarovski ATX 85mm Scope and TLS APO adapter was in fact a FUN but not very rewarding experience.
More than often I found myself twisting and turning for focusing forever each time either of the birds moved in and out of the frame. I shot close to 1000 photograph and found 2-3 was what I would call acceptable.
Sharpness at 25x magnification was SHARP and in fact sharper than I might have expected a least in the center and not so much in the corners. At least magnification there's no doubt the Swarovski ATX 85mm Scope is good glass. There were quite a lot of aberrations and uncorrected lens characteristics you'll seldom or never see in an equally priced telephoto lens.
At 60x magnification it's just too much focal length for the optical quality and things falls apart. Sure you can see your subject and everything else but forgot all about feather details on everything besides subject at near minimum focus distance. You're also extremely diffraction hindered shooting such a small effective aperture. All fine details are simply smeared away.
For a less experienced photographer or the common bird-watcher this is a frustrating solution
"But Tobias you're a photographer and you're looking at this from a photographers standpoint" you might ask. We've already established that nature photographers are not the target users for this setup – Let me turn this the other way around for a second;
Why should those with the lesser experience in photography (bird-watchers) use the gear that's most difficult to photograph with? Isn't kinda like if Canon made a telescope adapter for the 500mm II F/4 IS USM, charged a healthy price and sort off told through clever marketing that this could perhaps replace your telescope.. It wouldn't cause spottingscopes are tons easier to look into.
For an experienced photographer like yours truly Swarovski ATX 85mm Scope and TLS APO adapter is a fun but very cumbersome solution. For a less experienced photographer or the common bird-watcher this is a frustrating solution to photograph with and that alone is the reason I can't recommend it for anyone other than purists that loves a hassle and less than stellar image quality.
Conclusion
If you're a bird-watcher and wants to capture or document birds and observations in the field I recommend you use a phone adapter instead of the Swarovski ATX 85mm Scope and TLS APO adapter.
Phone adapters like the Swarovksi PA adapter iPhone adapter or one similar from Kowa (note Kowa makes adapters other phones than the iPhone) are a much more simple and easygoing solution without all the hassle of adjusting exposure, mounting adapter, removing cover, blowing away dust and all of the things you don't want to waste your time in the field with.
Sure you might argue that using a phone yields lower quality than using a proper D-SLR which is true.  But since we're not foremost hindered by image quality but by inconvenience of using a DSLR on a scope where you'll get none of the benefits from the DSLR, the phone adapter is a better choice and a no brainer.
The Swarovski ATX 85mm is a stellar spotting scope and one you'll enjoy using as such even at maximum magnification. Using it as a telephoto lens is another story and you're better off looking elsewhere if you want to capture anything moving or expect image quality for the amount you'll pay for the Swarovski ATX 85mm Scope and TLS APO adapter.
If you already own a spotting scope and wants to capture and document what you'll see go for a phone adapter and enjoy 90% of the same image quality and a more pleasant and rewarding experience.