With a plethora of camera bags on the market it takes a lot more than the run of the mill camera bag to stand out. The Manfrotto Off road Hiker 20L takes the modern everyday backpack look and included a camera section – But does it stand out?
Stylish backpack with camera-insert
The Manfrotto Off road Hiker 20L is divided in two compartment, the top one being the largest. Here you'll place your jacket, gloves, food, water and what have you.
By opening the top-flap and loosen the drawstring you'll get easy access, just as you would with a modern daypack.
The Manfrotto Off road Hiker 20L is a fully featured backpack with an included and removable camera-insert that holds a DSLR with attached lens as well as an extra lens or flash.
The back of the pack includes a mesh cover that make sure you a less of a sweaty back than if the backpack was fitted closer to your own back.
While it's definitely a more comfortable solution, the slight bent slightly decreases the overall amount the backpack can hold compared to similar sized packs. Typically a similar size pack would hold roughly 25-28L.
Most will find the meshing comfortable as long as you don't stuff plus 15kg's in the pack. In that case you'll probably looking at another and much larger pack all the same.
Customizable straps for days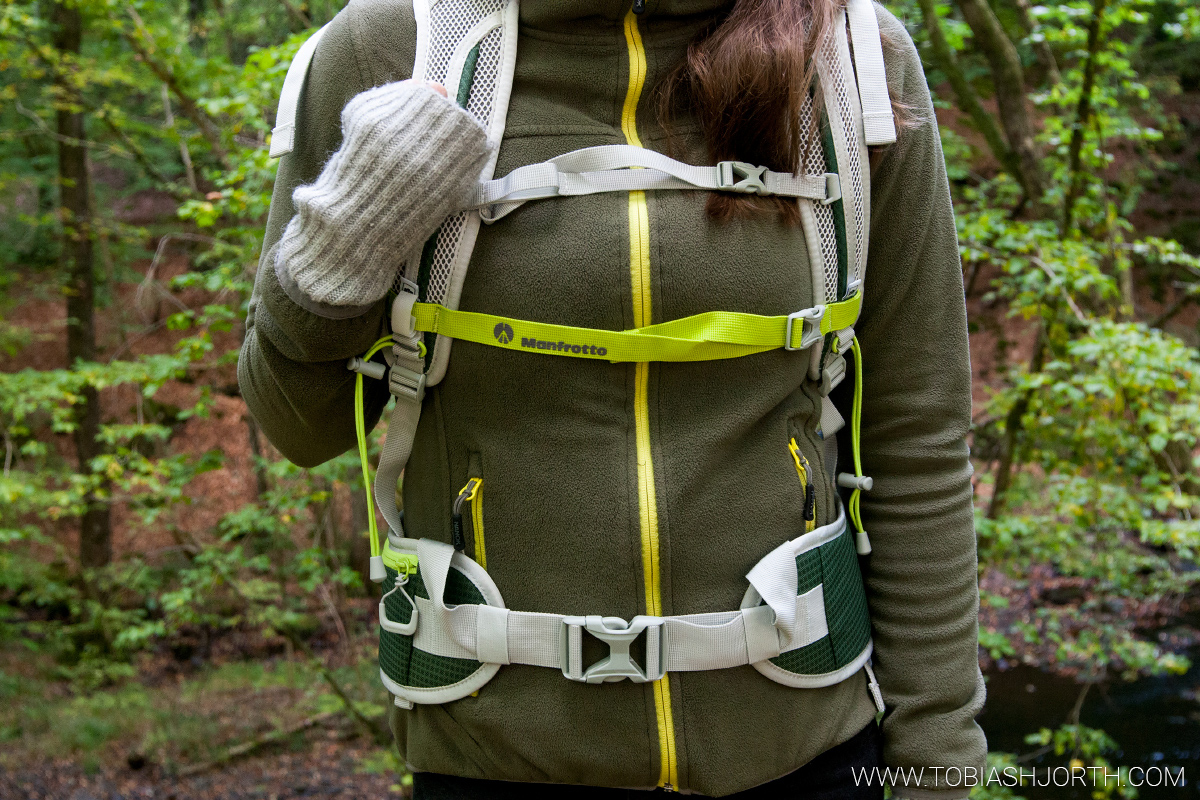 The mesh for easier heat transfer is carried over to the shoulder straps too.
That means the pack sits comfortable on the shoulder with a soft yet firm padding. The backpack features a plethora of adjustments but missed height adjustment. That means it'll only suit a certain size – Anyone over 175cm will find the backpack too short and therefore unsuitable to most men.
If you're over that height you want to check out the Manfrotto Off road Hiker 30L which is a larger variant of this backpack.
There's an ingenious way you can hang your camera on the front securely and without your regular camera-strap. Anything that takes the weight FROM your neck is a plus!
Notice how it wouldn't get in the way of the chest strap.
Attention to detail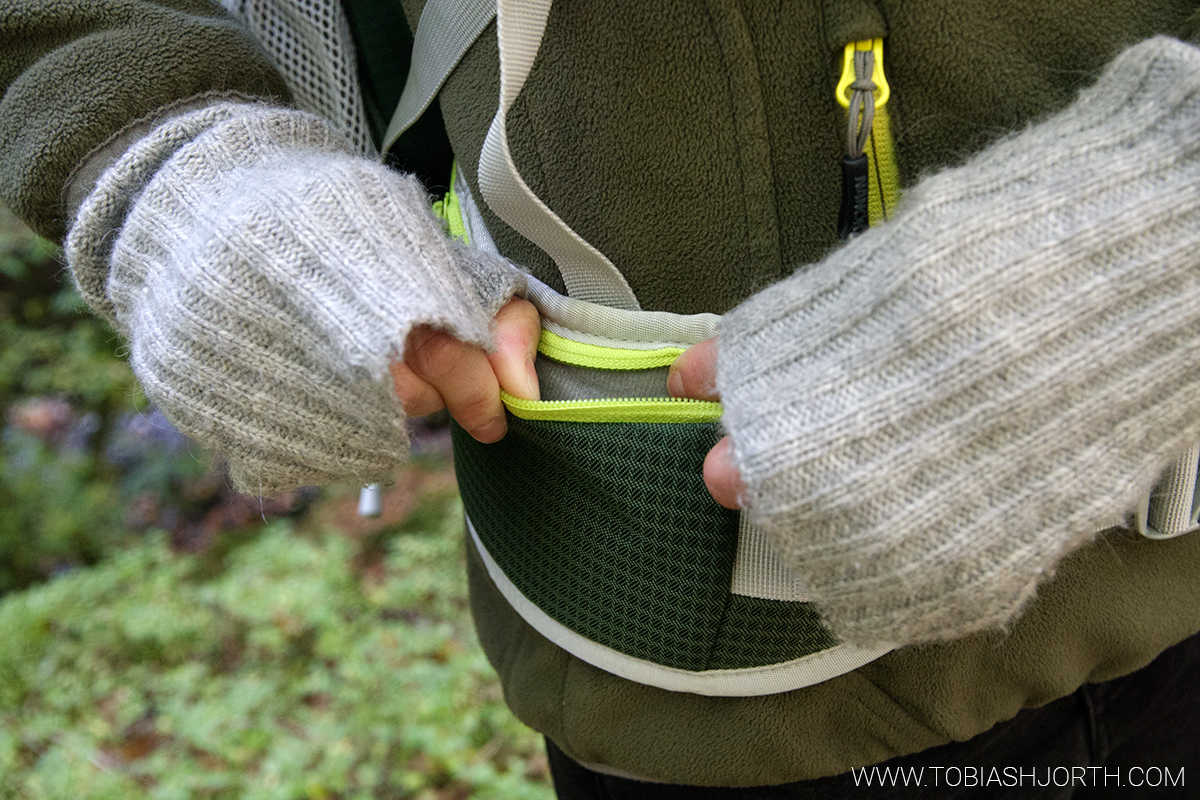 A thing that you do notice right away is the attention to detail. My girlfriend was especially fond on the zipper loops for easy zip and un-zip – Something every backpack should have I you ask me.
The waist strap featured a zippered pocket on the right side. A detail well received and one where you can place your wallet, cellphone or camera-accessory within hands reach. Thanks to another zip-loop you can open this pock WITH gloves on as well.
The chest strap was height adjustable for a correct fit and the waist strap was adjustable too.
Conclusion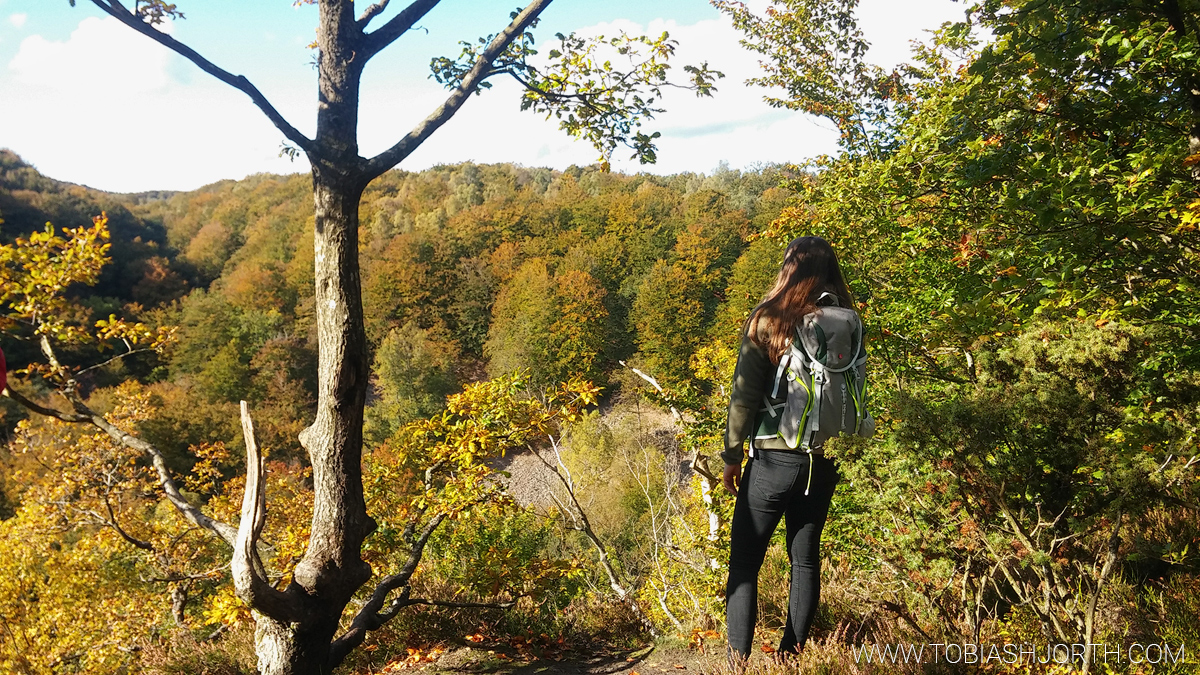 There's no doubt Manfrotto Off road Hiker 20L is a great camera-backpack that leaves little left to be desired. Comfortable and with good-sized compartments for most all-round camera gear (DLR or Mirrorless camera plus lens) and accessory, food and clothing. The style and design are modern, fresh and somewhat still new to the camera business as it resembles a daypack and not a camera-backpack. The mesh, adjustable straps and modern look makes way it stands out from the competion especially in the pricerange.
But do note the height disadvantage mentioned earlier and look for the Manfrotto Off road Hiker 30L if you're a regular size male.