The Sigma 500mm F4.5 EX DG HSM is a often overlooked super-telephoto lens targeted at Nature and Sports photographers that want a fast and sharp 500mm lens for almost half price compared to the Canon or Nikon counterparts.
The lens itself is among the lightest 500mm primes on the market weighing around 3.15kg´s. It does not have built in optical-stabilization (IS, VR or similar) although this is not important for Sony and Four/thirds users.
The lens could benefit it though although I could imagine the cost would raise quite a bit.
The handling of the lens is second to none. The rubbed focusgrip is buttersmooth and you have fulltime manual focusing without disabling the focus engine.
The lensfoot is designed to fit in your hands and is on par or even better than the Canon or Nikon alternatives – The lens is perfectly balanced on a Gimbal head.
Sigma incorporated their HSM focus motor which combined with the built in selectable focus limiter is very fast – Perhaps the quickest focusing Sigma lens.
The selectable focus range is more useful than you would think. Partially because you´ll be able to select a shorter focusing range fitting the subject you´ll be shooting and also because this shortened focus range makes focusing a lot faster compared to focusing throughout the whole range.
The selectable range is :
4 to 8 meters
8 to infinity
and 4 to infinity
Equally important is the lens ability to acquire and maintain the focus which is superb with the bare lens and very good using a teleconverter. Overall this makes Servo focusing a lot easier.
The lens shows good sharpness from the biggest F4.5 apparture to excellent sharpness at F8.0
To demostrate I used the lens on a tripod, mounted on a Gimbal head locked down along with a Canon 40D: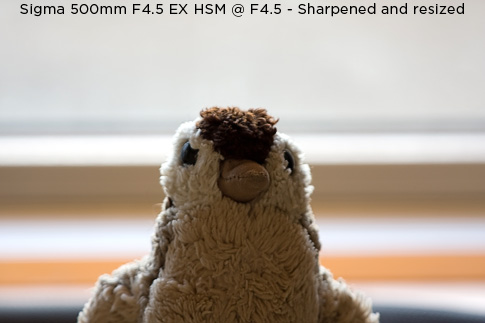 The following shots are straight from RAW – These are 100% crops. No sharpening, contrast or any other editing have been applied. The images have been resized slighty to fit the blog.
Aperture : F4.5 – Focuspoint is right at the point of the bill. Good sharpness but could benefit from USM.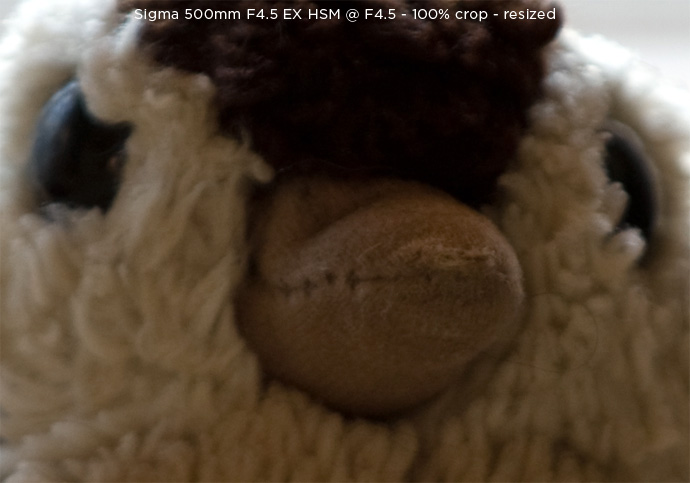 Aperture : F5.6 – Noticeable sharpness increase but also overall DOF.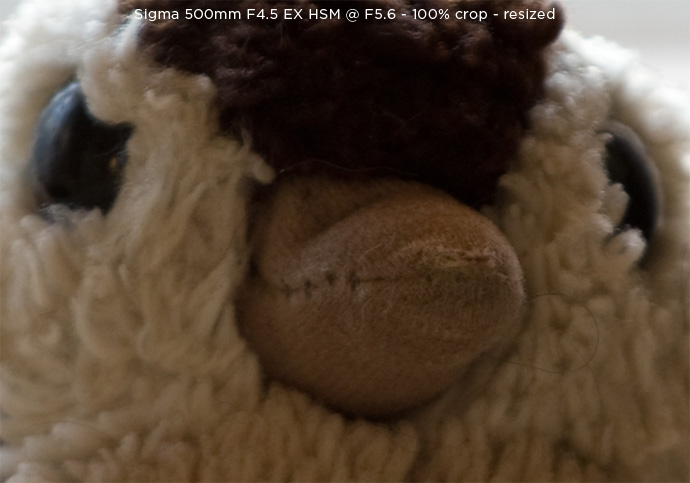 Aperture : F6.3 – Excellent sharpness. Note the increased DOF.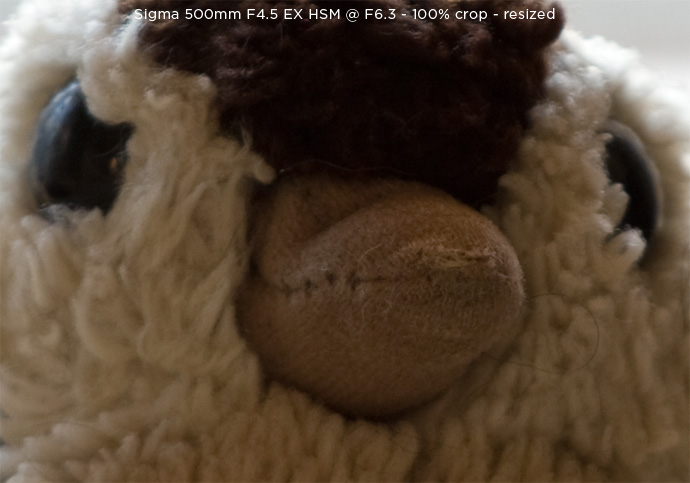 Aperture : F8.0 – Super sharp. Post processing USM isn´t really needed. Remember this is a 100% crop.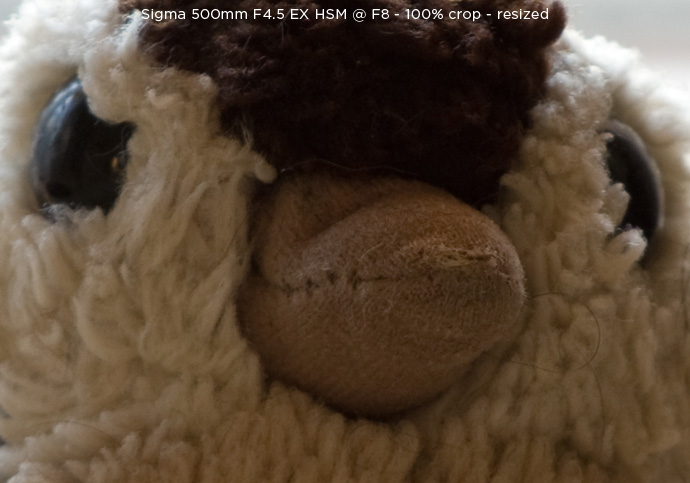 Results with 1.4x teleconverter
Comming in a near future…
Conclusion
Overall the Sigma 500mm F4.5 EX DG HSM lens is a great super-telephoto 500mm prime with rewarding sharpness, colors and contrast. The very fast HSM focusing motor makes the lens a joy to use for action photography such as birds in flight (BIF) or sports.
The sharpness is quite good at F4.5 and increases a lot stopped down. I´ve been using this lens along with a cheap non-reporting Tamron 1.4x and 2.0x teleconverter with great results. The light weight makes this lens handholdable although a Gimbal head and a solid tripod is recommendable.
My only very small nit is the very short lenshood. I believe contrast could be better wide open with a longer hood but then again I´m sure Sigma knows their stuff.
So if you´re into the market for a fast prime and can´t afford the expensive F4´s (with builtin IS or VR) or don´t feel you need the slightly faster aperture or IS for that matter the Sigma is the way to go.
Highly recommendable
Oystercatcher: Sigma 500mm F4.5 EX DG HSM + 1.4x Teleconverter @ F8 – 50% crop