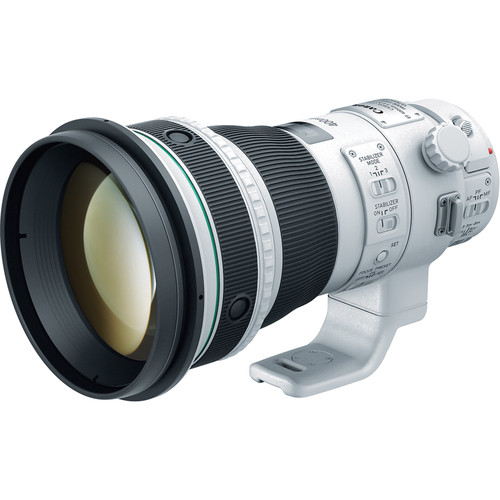 Introduction: Canon EF 400mm f/4 DO IS II USM
Celebrating 75 years of building optics can just introduced a EF 400mm f/4 DO IS II USM. Surprisingly some might add as this is a lens next to nobody asks for or need since Canon showed that you can build an almost primelike zoom the EF 200-400mm F/4 IS L + 1.4x TC.
Canon writes:
"Super telephoto lenses are essential whether on a safari or the sidelines to bring the image in tight on a subject, but they often are not the lightest lenses to carry around. Canon's new compact and lightweight EF 400mm f/4 DO IS II USM super telephoto lens will help lighten the load of professional and advanced amateur photographers. At only 4.6 lbs., it is roughly half the weight of the EF 400mm f/2.8L IS II USM lens. The new EF 400mm f/4 DO IS II USM lens features newly developed gapless dual-layered diffractive optical (DO) elements that help improve optical performance while maintaining virtually the same size and weight as its predecessor. The DO element in the new lens is optimally positioned deeper within the optical formula than in the original EF 400mm DO lens to help reduce flare around backlit subjects. Other optical improvements include the use of a large-diameter ground and polished aspherical element and a UD glass element that work together with the DO elements for thorough correction of spherical, chromatic and other optical aberrations. Canon's original SWC (Sub Wavelength Structure) lens coating is also used internally to help improve resistance to flare. Fluorine coating is applied to the front and rear lens elements to repel dust and make lens cleaning easy. A nine blade curved diaphragm is also incorporated to help produce smooth, natural-looking bokeh in areas outside the depth of field surrounding the main subject.
The new EF 400mm f/4 DO IS II USM lens features Canon's Optical Image Stabilization with up to four shutter speed steps of correction**. In addition there are three IS modes ─ standard, panning and during exposure only ─ that help to provide superb results in a variety of shooting situations. For greater convenience, the Image Stabilizer does not have to be disabled when shooting with a tripod. Four programmable buttons on the front of the lens allow photographers to customize lens and camera operation to fit their unique shooting style, or simply pause autofocus (AF) adjustment at any point to hold focus on a subject in a busy scene. Even in AF mode, full-time manual focus can be employed at any time. The lens also features a Power Focus mode for smooth focus "pulls" ideal for filmmaking. For those mobile shooters and documentarians truly "on-the-go", the lens is also highly resistant to dust and water for durability and reliability when shooting in even the harshest conditions."
asically a super light 400 mm F/4 that delivers images vastly superior to the predecessor – This could be a perfect lens for camera-body number 2.
B&H is already taking pre-orders right HERE